Marathon number 26 was the Rocket City Marathon in Huntsville, Alabama on 12 December 2009.
My goal was to run under 3:30, an improvement on the 3:33 at Baltimore in October. Marathon training is far from my highest or only priority these days, so I hoped that Baltimore would count as a training run for Huntsville. I made my goal, finishing in 3:29:12 on the gun and 3:28:55 on the chip, but it was a bit harder to achieve than I expected.
Marathon morning was unseasonably cold, in the 30's with a fresh breeze at the start and warming to around 40 at the finish. Rachael was with me in support, so I was comfortable in heavy coat and warm up pants waiting for the start. With only 1300 runners, parking at the start was a dream, our car was maybe 200 feet from the line.
The race started with no major issues, but, as indicated in the GPS data, personal hygiene necessitated brief stops in the 6th and11th miles. I didn't feel truly comfortable and warm until these issues were resolved. (Side note to serious marathoners: facilities at Huntsville were great, small clusters of one or two green houses spread along the route.)
After a short loop of the central city, much of Rocket City runs through residential neighborhoods to the south. The route is quite nice, although there is a long stretch along a 4 lane road from mile 10-15. It is not a spectacular course, but it is well marked and has lots of turns to keep things interesting. Roads are open along the course and cars jump through gaps in the runners.
A large gap formed in front of me around the half. I closed the gap, but had a bit of back and forth pacing as I passed into the leading group. A runner came up on my right shoulder and, in the spirit of banking a bit of time I decided to stay with him. I asked him where he was from. "Mexico," was the reply. Where in Mexico? "Mexico City." We ran a while. "But I live in Atlanta." I would have started with Atlanta, which is only a couple of hours from Huntsville. I'm from North Carolina to new acquaintances. The Mexican was a nice guy, however, encouraging runners we passed (which began to be a lot of people. ) My splits went from 7:50-8 to 7:30-7:45 for a while. The Mexican stayed right behind my shoulder and the pit pat of his shoes kept me going. It was a bit tough, actually, but it is hard to drop off 10 seconds when you are near your goal pace. He said thanks for setting the pace, I grunted.
He was actually a bandit in the race, I am not sure where he joined the pack. His girl friend was running behind in a 4:30 group. As we passed people close he would be peel off and the pit pat would fade, but he came back in a moment or two. I had started the run with a disposable jacket, which I had not disposed of in the cold. I noticed that I was sweating at mile 15 and unzipped the jacket. My arms were wet. I tossed the jacket at mile 18 and kept up the pace.
Finally, in the 21st mile my calves were a bit like lead and I fell off the pace a bit. My friend pulled ahead with a different group. I still wanted my 3:30, however, so I didn't let him go far. I stayed within 25 yards of him as I struggled to stay below 8:00 in the last few miles. I began to pass a lot of people that had blown out and were walking. I haven't had that experience in years, but I thought I remembered the feeling. My friend dropped out of the run at mile 24. We exchanged waves and smiles as I went by. I finished strong, but was as wiped out as I have been in a long time after I crossed the line.
One often hears that athletic competition is "90% mental, 10% physical" or variations thereof. This never makes sense to me, particularly with respect to distance running. The distance run is nearly 100% physical in my experience. One runs the fastest and longest one can, and the fittest and fastest runner wins every time. I wonder after Huntsville if there is something to the old adage, however. Perhaps my years of training and experience lead me to ignore pain that once would have led me to walk. I could not walk immediately after finishing Huntsville, but I finished on a sub 8:00 kick.
If it is a mental difference, it is not stoic or conscious thing. I was not in serious pain before the finish, but I was in serious pain immediately after. The ability to block that pain may be an athletic talent, it is no more a measure of character than the ability to run fast.
The Huntsville experience was fabulous. Rachael and I took a leisurely drive there. We stopped in Boone on Thursday night, had a tour of Ruby Falls ( a tourist trap in Chattanooga) on Friday afternoon and went to see the "Nutcracker on Ice" at the Huntsville ice center Friday night. My friend Junpeng Guo's daughter Sophie was on the ice, she is fantastically talented. Huntsville is an interesting town... I ran the race, we spent the afternoon eating an incredible Chinese lunch with Junpeng and his family and the headed north. We made it to Cincinnati.
Sunday morning Rachael was driving and I was working on race informatics. I asked her a question about excel and "presto" I was driving and she was working on the spreadsheet. The result is shown here: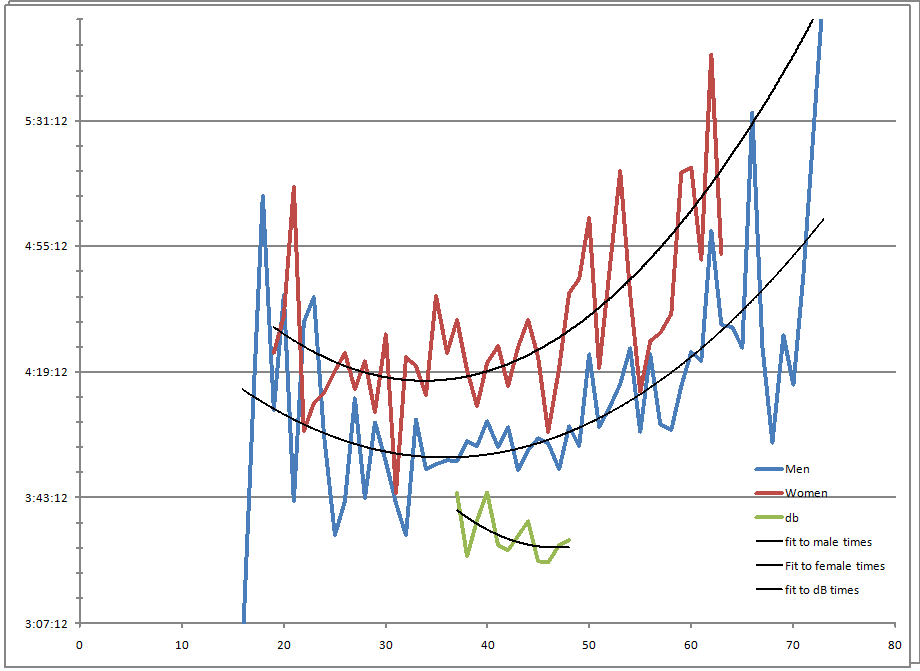 These are the average finishing times as a function of age for men and women in the Huntsville field. 410 women and 842 men finished. The green plot below is my average finishing time as a function of age over my span of marathons. I am still dropping, but the rate has severely slowed. The fits are with parabolas. Women hit minimum earlier than men, talk amongst yourselves.....
60 some people dnf at Huntsville, which at 5% seems high.
Here I am at the finish: